Hi fellow Grockles,
Just heard from Zeke, John's getting his treatments and fingers are crossed.
He asked me to post the following, which is to a pretty sporty event!
The page:
FEB 10th! John Anthony West Project Telethon w/ Graham Hancock, Randall Carlson, Robert Schoch, Laird Scranton, Edward Nightingale, and MORE!
February 1, 2017
Presented by Sacred Geometry International and Den of Lore, in cooperation with Clay Roup – For the most important show we will ever do, and on this very special night, John Anthony West's friends & colleagues come together to help spread the word of John Anthony West's fight, discuss his work, and share warm stories of the man himself.
Between each guest, we will be announcing the updated amount of funds raised for Clay Roup's Official Fundly campaign, the bonus thank-you-gifts being offered for making a donation, and at what giving level they are available at.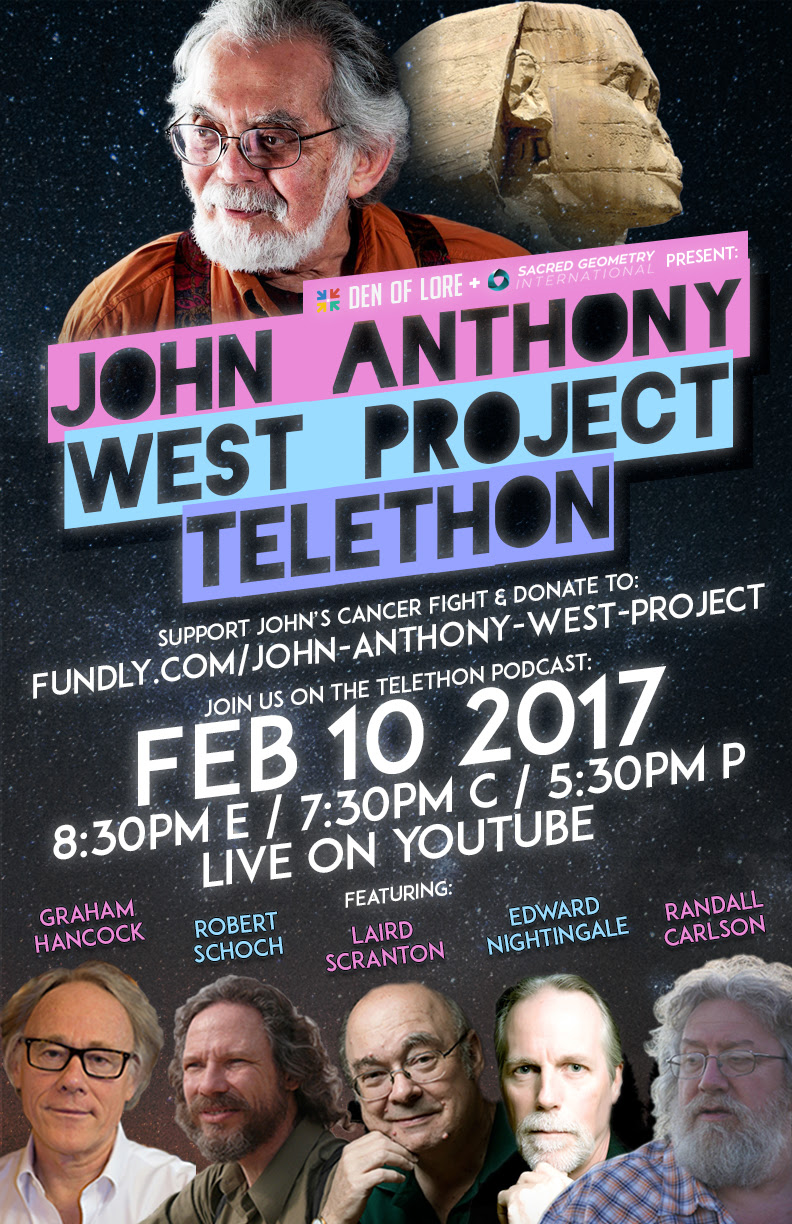 GUESTS
Graham Hancock, Randall Carlson, Dr. Robert Schoch, Laird Scranton, and Edward G. Nightingale.
Scotty Roberts has stepped out for medical reasons. Thoughts and prayers are with him and his family. GET WELL SOON SCOTTY! We will miss you, but hope for your speedy recovery!
More to be added!
GUEST CO-HOSTS
Dr. Robert Schoch – Author, & Professor Boston University
Edward G. Nightingale – Researcher & Author
Seriah Azkath – Host – Where did the road go?
Camron Wiltshire – Sacred Geometry International
SPECIAL THANKS
Jimmy Church from Fade 2 Black
Darren & Graham from Grimerica
Greg from The Higher Side Chats
WHY A TELETHON?
John Anthony West's work has touched millions of people's lives the world over, and fought against close-mindedness and ignorance, while promoting critical thinking on where our true history and our culture's past could come from. Now it is our turn as a community to give back to someone who has given so much to us.
We are with you in this fight John, every step of the way.
THE GOAL
Our goal is to raise $10,000 for John's treatment during the broadcast – and another $40,000 during the next 7 days as we release the audio edition of the podcast. Let's make this a reality.
Excerpt from Clay Roup's Fundly Campaign Page
https://fundly.com/john-anthony-west-project
John Anthony West, the Emmy award winning Egyptologist who took on the 'Quackademics' and conventional dating of The Sphinx is now taking on Cancer.
World renowned Egyptologist, writer and satirist John Anthony West has spent the majority of his life fighting academia with his controversial theories of ancient Egypt. In the first days of 2017 John was presented with a new fight, this time he is battling cancer instead of the "Quackademics" (one of many JAW'isms).
For those not familiar with John's work, one can start with his 1993 Emmy award winning documentary, The Mysteries of the Sphinx, narrated by Charlton Heston. John first hypothesized and then proved geologically that the Sphinx is vastly older than the conventional date of 2500BC taught in schools. Simply put, he has changed the way we look at the history of our civilization.
John West was adamant about using alternative methods over the extremely harsh 'standard of care' treatment that would be tough on any person at any age.
The great news is that John has been accepted in the renowned Burzynski Clinic in Houston, Texas. Dr. Stanislaw Burzynski, much like John, is a genius that the establishment does not know how to deal with. The FDA has continually harassed Dr Burzynski for using non standard of care methods, even though his treatment has shown more promise than traditional protocols. His patients testimonies have led to the FDA to consistently fail in their stubborn litigious pursuits.
Most non-traditional cancer treatments are disregarded from health insurance policies, giving most little choice in the matter. In addition to being radically cheaper, Dr Burzynski's patient case studies have detailed incredible results. Be that as it may, the majority of health care institutions do not acknowledge. This of course requires people like John Anthony West to settle his medical care out of pocket.
We cant let that stop these two from trying.
The Rogue Oncologist meets the Rogue Egyptologist, soon with your help.
We estimate the medical obligations, financial commitments, and on-hold Egypt tours for 2017 to be $155,000. 100% of all funds will go to John West and his family. We also welcome your ideas and suggestions to help out this living treasure to continue his pursuits.
###
Peace to you all.